For 20 years, Mach has been specialized in industrial technical solutions, being among the first companies to offer state-of-the-art industrial equipment for marking and inscription on any surface on the Romanian market.

Throughout the years, we have expanded our field of activity and range of services, now providing solutions even for printing houses and Digital Printing.

Regarding Digital Printing, we specialize in marking variable information and graphics such as labels, tickets, envelopes, flyers, text, numbers, barcodes, QR codes, images, personalized prints, etc. We have the competence and experience to design and implement complex applications according to each client's specific needs.Domino Printing inscription equipment is targeted at companies that require high-speed and high-resolution printing of information.

Domino Printing printers from the A CP Series are designed to meet the strict specifications demanded by commercial markets in terms of reliability, flexibility, print quality, and speed. Easily integrated into the existing production line, Domino A CP equipment offers a solution for printing information from the database.

While the A200 equipment is suitable for singular applications (requiring a single print head), the A400 is a compact printer whose modules can be stacked when space is limited and multiple print heads are required.

All Domino A CP Series equipment can be installed with a simple electrical connection, eliminating the need for a compressed air supply, and minimal operator intervention is required. The equipment is capable of reaching a productivity of 325m/min. A single button controls the start/stop of the system, and the unique ink system design allows for automatic cleaning of the print head.

The Editor GT allows the conversion of the production line into generators of uniquely printed products. With the increasing need for productivity growth and cost reduction, the Editor GT controller enhances workflow efficiency. This module combines data preparation tools with machine control integrated into the production line. This printer represents a secure solution, providing print confirmation after each message. As an additional safety measure, a vision system can be connected to verify and confirm the accuracy of the message.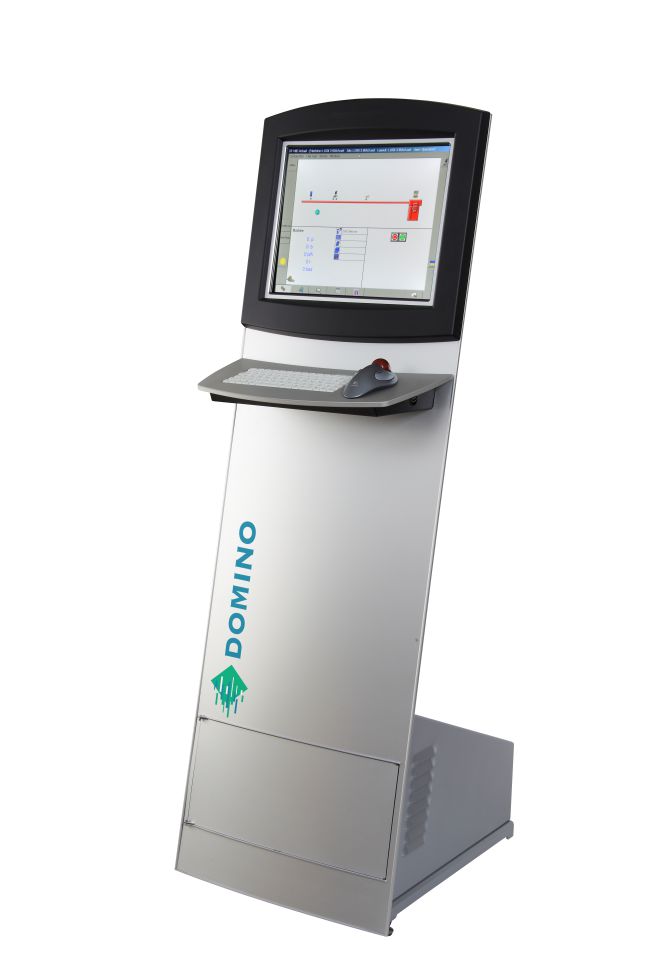 Domino K600i is a productive printer with low operating costs. Combining high speed with a native resolution of 600dpi, K600i represents an innovative printing solution that can be easily integrated into traditional printing systems. It can be used as a monochrome digital press.

With speeds of up to 150m/min, Domino K600i offers quality printing at competitive prices, contributing to increased productivity. K600i can print variable information and codes generated through algorithms or read from a database.

Using piezo drop-on-demand technology, K600i can print on a wide range of treated or untreated surfaces. The resolution control capability allows for ink consumption optimization. The equipment provided by Mach ensures comprehensive solutions that meet the specific requirements of this industry.