While traditional warehouses involve shelves, equipment (forklifts, stackers), operators, and warehouse records or a simplistic ERP system, modern warehouses consist of a range of cutting-edge technologies and automation that turn this space into a nucleus of the supply chain.

Today, storage-specific activities include cross-docking, palletization, labelling, and product identification, as well as storage in the most efficient way possible in terms of space and time. As a result, automation has gained increased importance in the supply chain.

Mach is one of the most important suppliers of equipment and complete solutions, as well as the leading industrial systems integrator on the Romanian market and beyond. We offer the latest concepts and modern solutions developed in collaboration with the largest international providers specialized in modern logistics.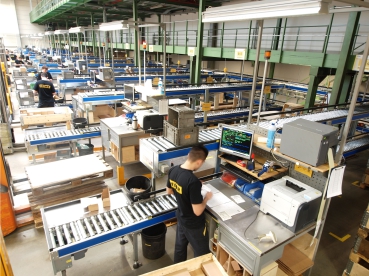 The Intralogistics Universe

Through the Intralogistics division, Mach offers its customers horizontal and vertical transport systems for the entire range of products, including conveyors (belt, chain, roller, wheel, pallet conveyors, special conveyors, suspended conveyors), vertical transport (side grip, spirals, elevators), diverters, rejectors, etc.

Additionally, the company's portfolio includes handling and sorting systems, packaging systems (stretch film, shrink film, palletizing stations, box formers and sealers, handle applicators, etc.)

In addition to these products, the company also offers labelling systems, in-line weighing, metal detection systems, depalletizing and palletizing systems, identification and traceability systems, automatic technology for warehouses containing vehicles with automatic guidance, warehouse management systems, semi-automatic and automatic picking solutions, all aimed at continuous improvement of processes, services, and products.

Together with its partners, Mach has implemented and developed efficient and operationally reliable modern intralogistics solutions and systems that guarantee both high productivity and a short transit period for products through the warehouse. These solutions are based on a comprehensive analysis of both merchandise stocks and warehouse operations and flows, key aspects in warehouse (re)organization.

The offered systems stand out primarily through maximum space optimization, quick installation of systems, as well as low operating and maintenance costs.

The benefits are numerous: from modularity (systems allow solution adaptation without the need for intervention on production lines), to flexibility (systems are used for transporting products with different dimensions and specifications), to reliability (no interruptions during production), etc.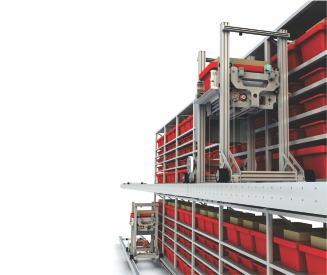 Online Retail Requires Ingenious Offline Solutions

An example of a successful Mach project was the implementation of a container transport system for picking in the warehouse of a major online retailer in Romania.

The requested productivity was 1,500 containers per hour, and in the future, the system can be configured from a hardware perspective for productivities of over 3,000 containers per hour.

The hardware solution proposed by Mach specialists consists of conveyors with slats, motorized roller conveyors, gravity conveyors, spirals for vertical transport of containers with products, and diverting systems.

Containers are fed from the ground floor to the 3rd floor of the platform through an inclined slat conveyor. On the 3rd floor, the containers are transported to the double spiral and lowered to the 2nd floor. The system on the 2nd floor contains a conveyor line with 3 loops on a single side where there are up to 3 operators on each loop. When the container is diverted, it reaches the operator, followed by the picking operation. After completing the picking operation, the operator pushes the box for re-entry into the flow, where the motorized part of the loop takes over.

The 45-degree diverting systems, efficient and fast, can manipulate and redirect containers, even if the distance between them is very short. These are integrated with barcode scanning devices where they receive information.

Also, at each exit from the loop area, the height of the containers is monitored so that they do not exceed the predetermined height and to avoid system blockages.

Barcode scanning devices provide maximum accuracy in diverting and manipulating containers with products. The method of motorized rollers allows precise accumulation control without pressure, they are flexible and have low energy consumption.

The roller conveyors have sections composed of 24V motorized rollers with independent control electronic boards, and product handling management is performed locally. In this way, segments of the same conveyor can have different speeds, providing enhanced control over container transport and acting as distancing segments, where applicable.

The article appeared in Intermodal & Logistic Magazine in Issue No. 23, September - October, 2015.