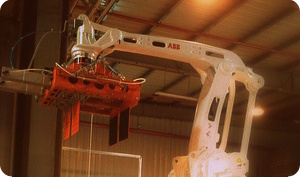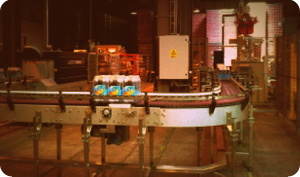 Customer Request:
An automatic packing and over - packing system, with automatic palletizing and with manual product feeding system.
The packing and palletizing of a wide range of product types.
Provided Solution:

The implemented solution uses two thermal shrink foil wrapping machines, manufactured by DIMAC Aetnagroup. The first machine is used for smaller packages with 1x2 or 1x3 formats, while the second one, is used for the final over - packing of the boxes with 2x3, 3x2 or 4x3 configurations.
At the same time, the system has been provided with a HA40 handle application machine manufactured by SMI, the palletizing cell consists in an ABB robot and a multiform gripper designed and executed entirely by our technical department, a box transport system, pallets and a Robopac 3000HD film wrapper.
This way, a productivity of minimum 15 pallets per hour has been achieved, depending on the type of the product and on the corresponding palletizing matrix.
.
Results:
- Ensure the productivity the client required and achieving the imposed quality and reliability indicators.
- Reducing the palletizing cost, as the system has to be supervised by only one single operator.
- Giving the manufacturer the possibility to produce "gift" or "multi-product" package types, for the promotional campaigns over the year.
- Reducing the palletizing error rate by up to 80% by eliminating the human factor.