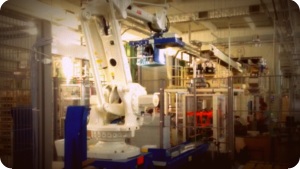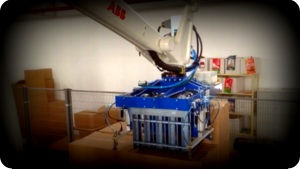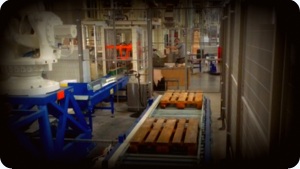 Customer request:
Automatic palletizing system. The palletizing of a wide range of products types.
Provided Solution:
The implemented solution is based on a palletizing cell, consisting in an ABB IRB660 robot and a gripper, in a pallet conveyor, in a product transportation conveyor with an elevation station for the boxes in the collection area.
The gripper and the pallet conveyor have been designed and executed entirely by MACH's technical department.
This way, a productivity of minimum 10 pallets per hour has been achieved, depending on the type of the product and on the corresponding palletizing matrix.
Results:
- Ensure the productivity the client required and achieving the imposed quality and reliability indicators.
- Reducing the palletizing cost, as the system has to be supervised by only one single operator.
- Giving the manufacturer the possibility to produce "gift" or "multi-product" package types, for the promotional campaigns over the year.
- Reducing the palletizing error rate by up to 80% by eliminating the human factor..