Mach FTD it is specialized in the installation of complete bottling lines, with productivity starting from 500 pcs / h up to 36,000 pcs / h for any kind of liquid products and for all types of containers: PET, HDPE, glass or bag in box. The bottling lines offered by Mach FTD benefit from technical advice on the choice of equipment, technical assistance for installation and PIF, post-warranty technical assistance, as well as spare parts under warranty.

TYPES OF BOTTLING LINES

Depending on the configuration, size and complexity of the line and range, Mach FTD can offer the following types of bottling lines:
COMPACT OR MODULAR BOTTLING LINES

• COMPACT BOTTLING LINES - ADVANTAGE: SMALL TECHNOLOGICAL SPACE

Monoblocks are compact filling and capping systems. Triblocks are compact rinsing - filling and capping systems. The number of rinsing / filling / capping valves is variable depending on the desired productivity. For small and medium productions, starting with 750 pcs / h up to 2,500 pcs / h, we recommend the range of compact bottling equipment, easy to configure and economical in terms of space. The proposed equipment performs various technological operations: rinsing with water, sterilizing liquid, or blowing with sterile air, filling with 4, 6, up to 16 valves, closing with a lid by screwing or pressing, application of stickers and date / batch inscription. Only one operator is required to operate this machine. These types of lines are suitable for bottling milk, yogurt, juices, wine, as well as liquid soap, shampoo, chemicals, and pharmaceuticals, dense or semi-dense, hot or cold, gravitational filling, vacuum or light pressure.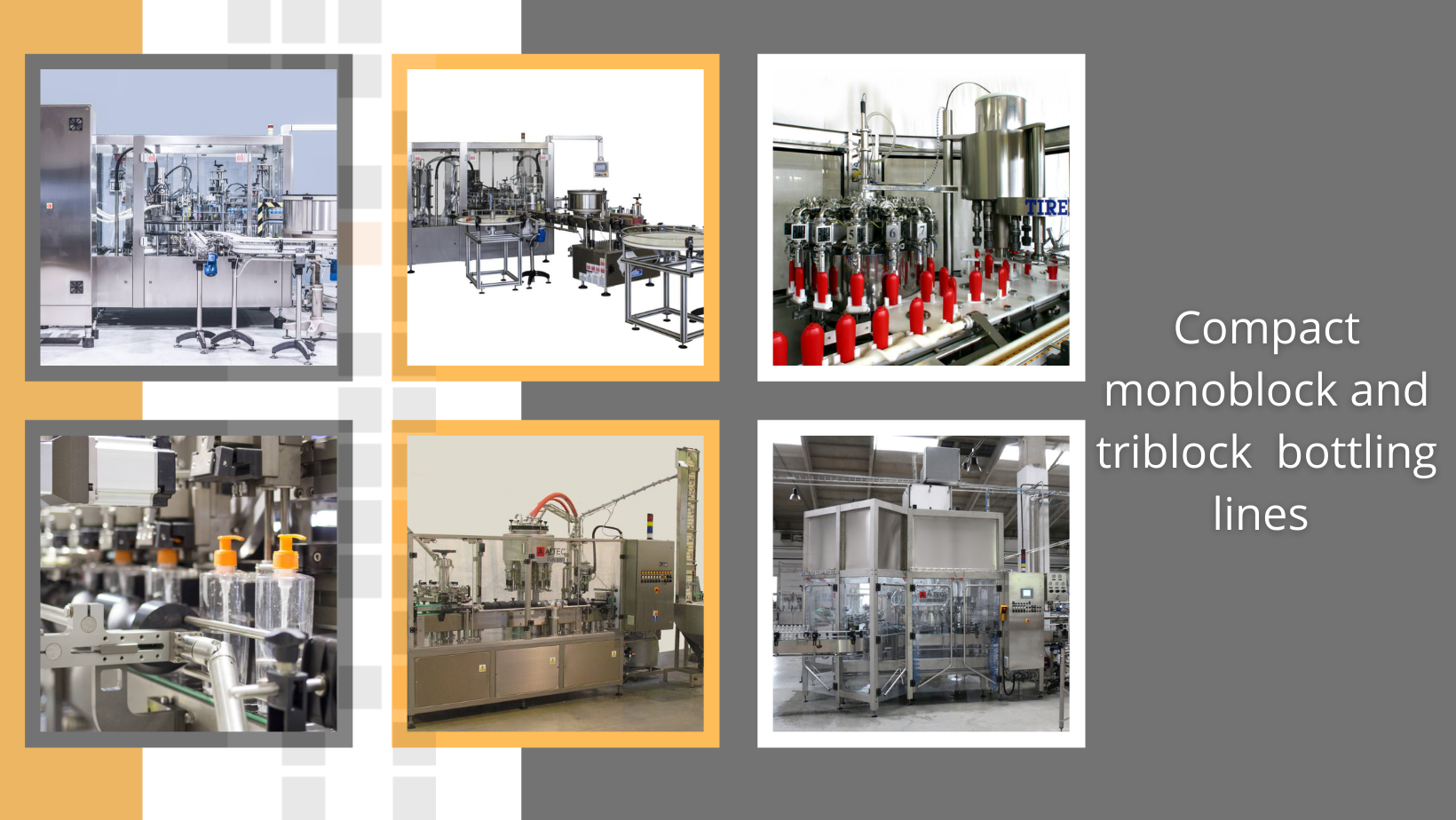 MODULAR Lines RINSE-FILLING-CLOSING-LABELING

Advantage: the modules can be added and ordered according to the requirements of the technological flow. They consist of separate filling and capping equipment, but connected and automated with each other. The modular bottling line group is ring-shaped, designed for packaging in PET, HDPE and glass bottles of products for the industries: food, beverage, cosmetics, pharmaceutical and chemical industry, as well as for all types of liquids.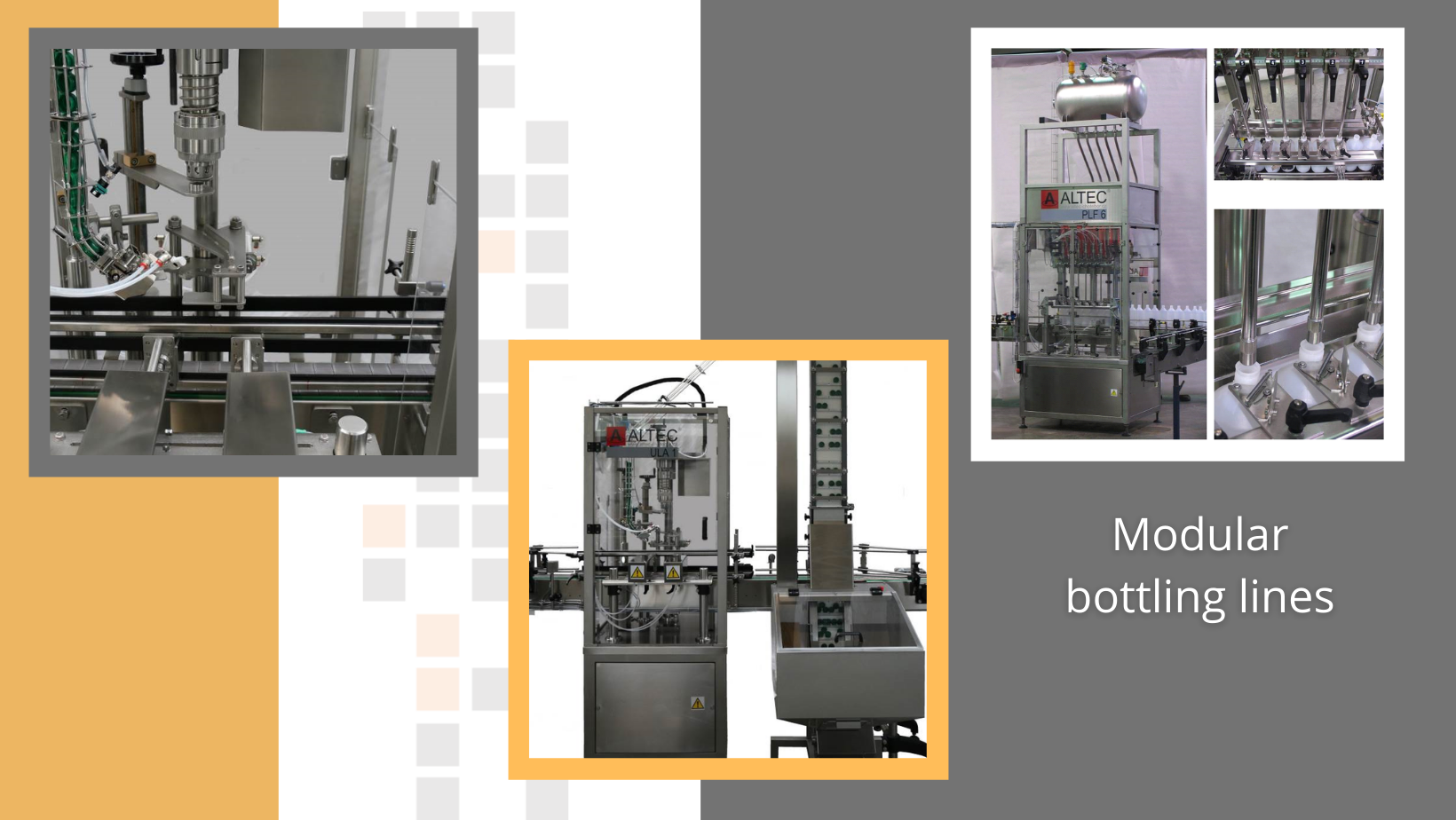 SEMI-AUTOMATIC OR AUTOMATIC BOTTLING LINES
Semi-automatic bottling lines
This category addresses bottling lines that do not require very large production volumes and / or the business includes limited in-house production processes, with specific products that require human assistance. The semi-automatic bottling lines include in the Mach offer, volumetric filling equipment for food, cosmetics or chemicals. They can work both with dosing from the neck of the bottle and by immersing the filling rod to the level of the base of the bottle to avoid foaming. Semi-automatic bottling equipment can accurately dose volumes between 50 ml and 5000 ml with productions of up to 400 containers / h. They can be configured with both a filling valve and two, or cap screwing option.

• Automatic bottling lines

Automatic bottling lines are offered to customers who have large production volumes in a predetermined time and who require high speed of preparation of products for delivery. It also addresses businesses where human resources must be protected from activities that are dangerous to health. Mach offers automatic bottling lines for:

- Food industry - juices, still / carbonated water, wine, vinegar, oil, milk, sauces, etc. The productivity covered is between 1,000 and 40,000 containers / h. The equipment can be configured both as a monoblock / triblock: washing, filling, capping, and in separate blocks (filling equipment only, capping equipment only)

- Cosmetics industry (detergent, liquid soap, hand sanitizer, care products, shampoo)