Labelling gives life to your product and also a professional image for your company, even when we are talking about boxes or pallets. Our label applicators give you identity in the eyes of the consumers and distributors.
This is why we offer our customers high-performance print & apply labelling systems and bar code data labels, implementing automated solutions to almost any type of packaging.
To this end, we are partners of the best producers in the field - ALTech (Italy), Domino (UK) – and together we guarantee our experience and professional resources, as developers of reliable technical solutions for the most complex problems arising in the field of labeling.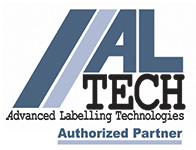 ALTech and Domino are high quality applicators, high-strength alloys, and stainless steel.
The versatility of each labelling system is the result of its design according to customer's application. The time for maintenance of process systems is low due to their reliability, as well as the easy access to each component. Electronic components that are designed to prove their reliability in almost any work conditions, and every detail is checked and coded into charts and lists that accompany the operating system.
The most important feature of the labelling systems offered by MACH FTD is the ADAPTABILITY.