Domino works extensively with leading cable and wire companies. As a result, Domino has a range of innovative non-contact ink jet and laser printers that can produce high quality and high speed coding onto a variety of substrates within the cable and wire industry.
Advantages of Ink Jet Coding:
Non-contact printing enables products to be coded without damage
Coding without tooling allows manufacturing flexibility and quick changeovers
Real time codes for improved product traceability
Increased flexibility to print metre marking and counters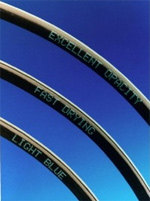 Cable and Wire Extrusion
A wide variety of inks ensures excellent adhesion and superior contrast on coloured materials
A-Series CE prints variable data and meter marking at very high speeds
Flexible print formats provide high quality printing and allow different print heights within a single code
UV cured inks provide flexible permanent marking
Inks specifically developed for wire & cable ensure zero offset
Excellent light fastness ensures inks will not fade
Letter quality micro printing using Domino's Freeform and Pinpoint technology
A-Series CE has enhanced software for simple set up and accuracy in message repeats

Cable Processing
Domino ink jet systems offer more flexible printing, higher throughput and quicker changeovers than traditional coding methods.
Developed to interface with all leading cable processing equipment.
Superior ink adhesion that is water, solvent and scratch resistant
Specialist Engineering and Software
For highly specialised applications, Domino Group Company, Wiedenbach Apparatebau GmbH, has unrivalled experience supplying solutions to wire and cable processing and manufacturing companies. Wiedenbach products offer even more flexibility and functionality for those customers needing special engineering and software, and will build a complete customised solution.
Specialist inks for printing onto different substrates such as cross linked PE, PVC and PA without offset
High pigmented inks for unrivalled contrast on dark and light surfaces
High speed printing of up to 14 m/sec
Specialist software enables complete flexibility including Meter marking and count up/count down marking
Tower printing
Print distance entry in mm or inch
Specialist engineering accessories such as cable guiding systems
Small character print of 0.9 mm